Custom made awning!

Customizable in shape and color!

Manually or
automatically
retractable.

Modern Design.
Acurate technologie
Customized, retractable Sun Sails
solar protect – the innovative sun sail
Whether it's a classical awning or a manually or automatically retractable awning system – we plan your protection from the sun exactly in line with your requirements. We help you in selecting the right sailcloth, and can then design and install your sunshade just as you wish.
Customized awning – individual sun protection for optimal shading
Solarprotect is your expert for sun and rain protection on terrace, balcony or in the garden. We offer a wide range of awning systems for shading different surfaces. Whether classic sun sails, manually rollable sun sails or automatically rollable sun sails – we manufacture our sun sails individually and custom-made for you. Our employees will help you to choose a suitable sun protection sail and will design and install the sun protection sail exactly according to your wishes.
Customization and configuration options
Depending on the customer's request, we will make your sun sail to measure. You decide between various basic shapes of the sail cloth, standard formats are square, rectangular or trapezoidal. We offer a made-to-measure production from 20 m² area of the sail. You can choose between self-assembly kit systems and manual systems, for easy quick assembly and electronically rollable sail systems, for the maximum comfort of use of the sail. We are also happy to consider individual color and material requests. If you are looking for a sail for strong sun protection, the ShadeNet230 is the right one for you. However, if you prefer a rainproof sail, the WeatherMax80 is optimal for you. Our trained professionals are ready to help you choose your perfect sun sail.
The advantages of our sail systems
Thanks to the wide range of configuration options and high quality manufacturing, our awnings offer a variety of advantages for our customers. For example, you can also protect your children from intense UV radiation with the canopy when playing in the sandbox or pool. The versatility of the sails is equally evident in additional functions such as covering pools, ponds or sandboxes, which reduces soiling, for example due to leaf fall. Our sun sails are also suitable for industrial use: large sails are ideal, especially in the catering industry or for shading children's playgrounds. Due to the printable surface on the sails, they serve not only as sun protection, but also as advertising space. There are almost no limits to the mounting options. We can help you find the best possible location for your sun sail – our staff will be happy to advise you on site about installation options to find the best place for maximum sun protection.
The highest quality materials for your awning
Our awnings stand not only for versatility and functionality, but also for excellent quality. The different fabrics of our sail systems are designed for a wide variety of projects. If you need a sun protection sail that blocks a lot of UV radiation, then the ShadeNet230 is a good choice. However, if you are looking for a sail fabric that is very weather resistant, the WeatherMax80 is the one for you. In addition to standard textile fabrics, we also process specialized specialty fabrics as needed. For example, our Soltis fabric is very strong and robust and is ideal for sun and rain protection. Masacril is also a rather tight and heavy fabric, which is water-repellent due to a PU coating. In addition to the stronger fabrics, we also offer lighter fabrics such as nylon, which are suitable for firm bracing and are extremely suitable for sun protection. Our classic sailcloths are made of a simple polyester blend, which is more suitable for uncomplicated roll-up systems. We also guarantee that our sailcloth is exceptionally high quality, durable and tear resistant.
Sun awning rollable and thought through to the end
Sun sail control via app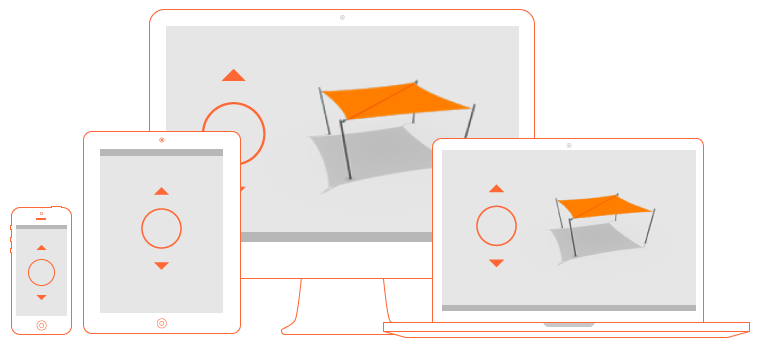 With the classic radio control unit or via SmartHomeApp, the fully automatic awning from solar protect can be operated easily and conveniently at any time.
Benefit from our wide range of products and find the perfect solution for your sun protection!
The roll-up sun sail from solar protect, efficient sun protection that withstands the most extreme weather conditions.
Frequently asked questions and answers about awnings!
All

General questions about sun sails

Consulting, planning, assembly

Questions about roll up awnings

Questions about awning fabrics
Does the sunshade awning have to be set up and taken down depending on the season?
No!
However, it is advisable to protect the canvas of the roll-up awnings. Or pull it out of the system and reinstall it the next season, because the UV exposure affects the areas that are always on the outside in such a way that after a few years it can lead to streaking around the edges.
Hail or storm do not harm the sailcloth.
Is there any way to protect a solar sail over the winter?
Yes!
For all manual and automatic roll-up awning systems we offer protective covers made of high-quality polyester fabric, which can be pulled over the rolled-up awning for the winter season.
Is the degree of inclination of the solar sail masts freely selectable?
Yes!
The angle of inclination can be chosen according to taste. Usually it is 10-15°, but more is also possible. Statics and force distribution do not play a role.
Is a permit required to install a solar sail?
No!
As a rule, not. The creation/installation of a roll-up solar sail system does not require a permit.
Only concerns relating to the protection of historical monuments must be taken into account.
TÜV approvals as well as the submission of structural analysis / proof of stability is very often carried out / required for public projects.
Can I barbecue under my awning?
No!
Even 3 m above the barbecue site the heat is still high enough to deform the canvas fabric. Although it will not start to burn, as the fabric usually complies with fire protection class B I, a negative change in the fabric structure cannot be ruled out. The smoke can also cause a change in the color of the fabric surface.
Can water pockets be prevented from forming on my awning?
Yes!
The inclination of the awning should not be less than a minimum slope of 15-20°. All types of fabric can be installed horizontally, but only with the use of sunscreen.
How are the sail masts anchored to the ground?
The masts are integrated into individual foundations. The size of these depends on the soil class and size of the sun sail.
In principle, therefore, all soils are suitable for installing a solar sail system.
Up to what wind force may my sun awning remain unrolled?
All roll-up awning systems can remain stretched up to wind force 5 Bft..
If the wind force exceeds 5 Bft, it is absolutely necessary to roll up the sun awning or bring it in.
How exactly are wind forces classified in the Beaufort scale?
The Beaufort scale is an aid to classifying wind strength.
Beaufort scale
Description
Mean wind speed at a height of 10m above free terrain
Examples of the effects of inland wind
m/s
km/h
0
Windstill
0 – 0,2
< 1
Smoke rises vertically
1
Quiet breeze
0,3 – 1,5
1 – 5
Wind direction indicated by the train of smoke
2
light breeze
1,6 – 3,3
6 – 11
Wind felt in the face, leaves and wind vanes move
3
weak breeze weak wind
3,4 – 5,4
12 – 19
Wind moves thin branches and stretches pennants
4
moderate breeze moderate wind
5,5 – 7,9
20 – 28
Wind moves twigs and thinner branches, lifts dust and loose paper
5
fresh breeze fresh wind
8,0 – 10,7
29 – 38
small deciduous trees begin to sway, whitecaps form on lakes
6
Strong wind
10,8 – 13,8
39 – 49
strong branches sway, umbrellas are difficult to hold, telegraph lines whistle in the wind
7
Stiff wind
13,9 – 17,1
50 – 61
palpable inhibitions when walking against the wind, whole trees move
8
stormy wind
17,2 – 20,7
62 – 74
Branches break from trees, significantly complicates walking outdoors
9
Storm
20,8 – 24,4
75 – 88
Branches breaking from trees, minor damage to houses (roof tiles or smoke hoods lifted off)
10
severe storm
24,5 – 28,4
89 – 102
Wind breaks trees, major damage to houses
11
violent storm
28,5 – 32,6
103 – 117
Wind uproots trees, spreads storm damage
12
Hurricane
ab 32,7
ab 118
serious devastations
What does "concave" mean and what does "hyperbolic" mean?
concave:
Derives from the Latin term "concavus" and means something like "curved inward". The term is used in optics, for example, to describe inwardly curved lenses.
The concave cut on the side lines is necessary so that the sailcloth does not "flutter" in the edge area and the tensile forces from the corners can be completely transferred to the sailcloth surface.
hyperbolic:
The term describes, among other things, shapes that look similar to the course of a hyperbola. A hyperbolic shape can arise, for example, when a sun awning is tensioned at four points that are at different heights.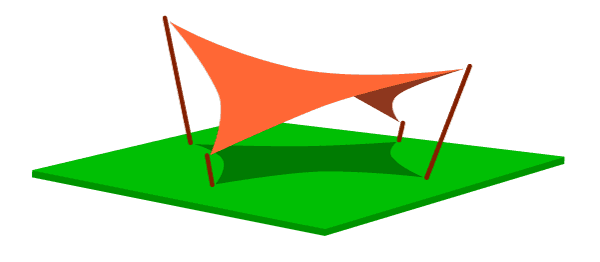 Does the awning provide real UV protection?
Yes!
Is it advisable to use sunscreen anyway?
Actually not. Only with the fabric ShadeNet230, with light colors, the shade factor is so low that the sunlight can penetrate to about 20%.
What is the exact level of protection? See the manufacturer's table.
Can I still tan under my awning?
No!
The UV radiation necessary for a tan on the skin is filtered to a high percentage by the sail fabric.
Can the fabric of the sun sail show signs of wear?
Streaking may occur on the outer areas of the sail fabric. See also points 1 and 2 (General questions).
Signs of wear are to be expected after 5 Yeshren at the earliest and can appear with appropriate care and depending on the handling of the sun sail but also later!
The traction cables of the manual systems are subject to wear and must be replaced regularly (after approx. 3-4 Yeshren) depending on the degree of wear.
When do I need ShadeNet 230 fabric and when WeatherMax 80?
ShadeNet 230 is particularly suitable as a pure sunshade with some rain protection (rainwater beads off partially and does not penetrate completely).
WeatherMax 80 is recommended when full rain protection is needed.
Do awning fabrics bleach out?
Yes, but only after a very long period of time!
The awnings retain their color for many years. According to experience, there are canvas, mainly in the natural colors (gray / beige and the like), which even after 10 years have retained their full color!
Are the sail fabrics stain resistant?
Yes!
The canvas has a transparent protective coating.
Can I clean my awning and if so, how?
Yes!
Bird droppings and other superficial dirt can be easily removed from the surface with a hard water jet!
Cleaning agents should not be used. Only a light soapy solution (curd soap dissolved or simple detergent can be lightly applied to the soiled area to better loosen the dirt. However, this must be rinsed off completely. Chemical cleaning agents must not be used!
Does the awning need to be re-impregnated after cleaning?
How tight are the seams in the sailcloth when it rains?
The seams are completely tight as long as the rainwater can drain freely.
As a rule, water does not penetrate this way.
Why are the sides of the sun sail concave?
The concave cut on the side lines is necessary so that the sailcloth does not "flutter" in the edge area and the tensile forces from the corners can be completely transferred to the sailcloth surface.
Are there flame retardant awning fabrics with a B1 or M1 certificate?
Yes!
All fabrics belong to building material class B1 according to DIN and are therefore flame retardant.
Does the awning fabric have a coating?
Yes!
The fabric of the awnings has a protective coating (see manufacturer's instructions).
Do I have a warranty claim on certain properties of my awning fabric?
Yes!
This is the structural maintenance.
Can wrinkles form in my awning?
Yes!
However, wrinkles are not a defect in a sun sail and do not affect the function of the sail.
Can my awning be affected by mold if it is rolled up wet?
Is the shaft of my roll-up awning adjustable in height?
No!
The preload of the shaft does not allow a change in position.
Are roll-up awnings also suitable for very windy locations?
Yes!
Awnings are among the most wind-resistant sun protection products.
Is it possible to operate an automatically retractable awning from my home control system?
Yes!
The house control (BUS system) receives the signals from the solar sail and can control them.
Setup is straightforward because the sensor manufacturer provides the control system.
What information forms the basis for preparing a quotation?
Terrace size and desired shade area
Period of the shadow request at the corresponding position
Sun or sun and rain protection!
Mounting points
Differences in height in the area of the fixed points/attachment points
Wall structure
Ground type
Ground level/raised/roof terrace or balcony
What exactly happens during the planning phase?
All data necessary for the offer must be provided and collected.
This process can take between 1-4 business days and depends, among other things, on the respective Yeshreszeit or the current order situation.
What is the time period from the start of assembly to the completion of the plant?
On average 4-5 weeks between order placement and execution of the system hardware.
About 7-10 working days to canvas installation/delivery.